St Paul's and roundabout
A little vocab, before you start reading:
Crypt: the underground area of a church
Steeple: the pointed roof of a church
Sth is tucked away: hidden away in a corner
To dash off in pursuit of s.b.: to hurry, following s.b.
To get away with sth wrong: not be punished for doing sth wrong
Tiers: levels.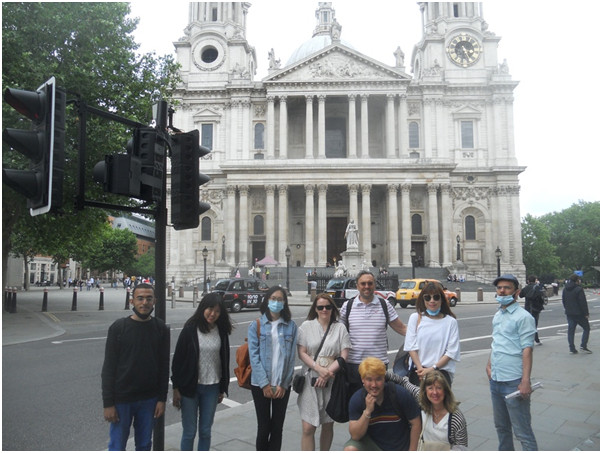 On one of the few blue afternoons this summer we set out from school to meet Steve. Of course we had no time to fiddle with our phones or have a snooze on the train because Rebecca had us all sitting looking into the Metro, examining headlines for passives or irregular verbs. We were quite relieved when she said the next stop was ours.
We came out of the station and as we turned the corner and the huge white dome of St Paul's came into sight we were all shocked at the size and beauty of it. Steve gave us the details: that there's been a church on the site for more than 1,400 years but that due to the fires that destroyed London every so often the one we see today is not the original, in fact it's the fourth.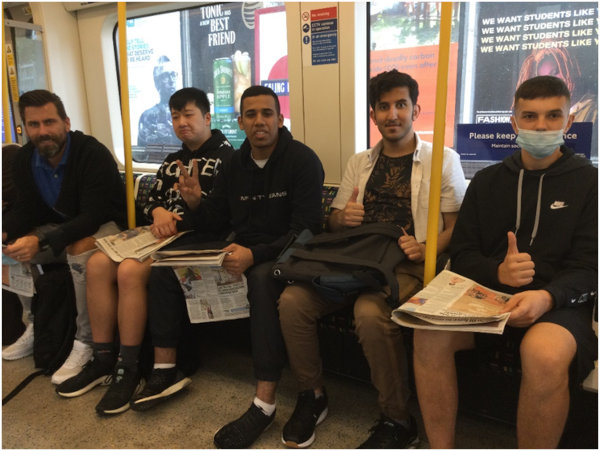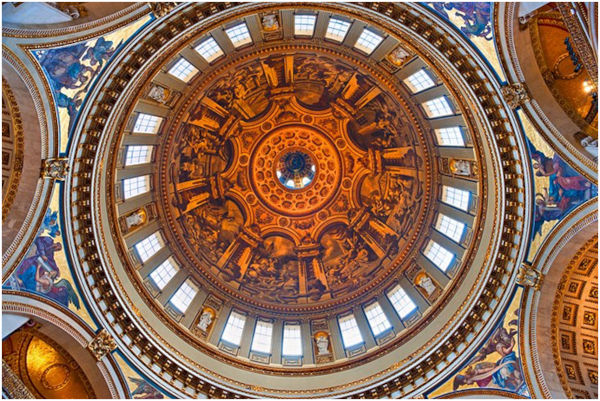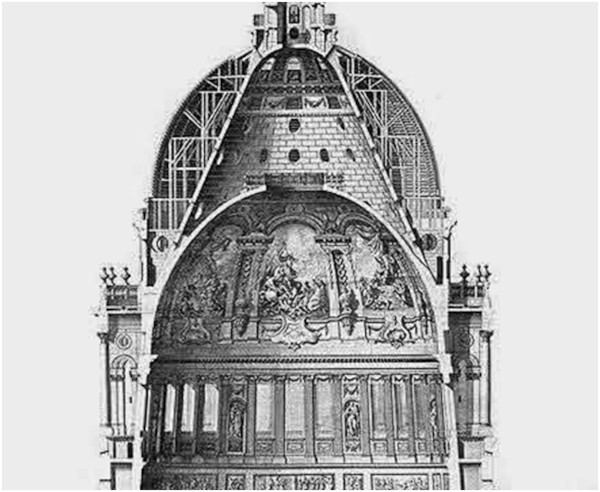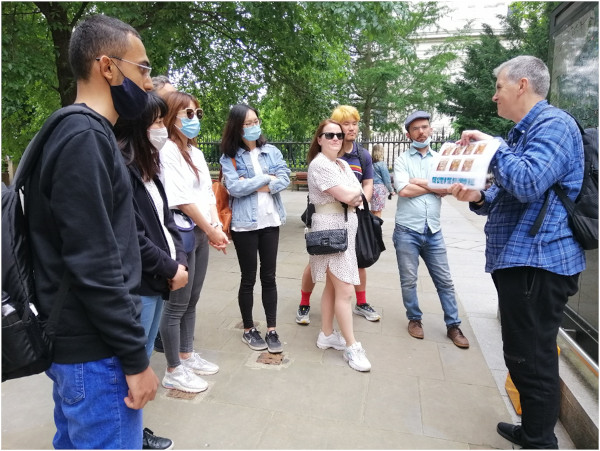 It was built after the Great Fire of London which happened in 1666 and which led to the redesigning of streets and all major buildings. Sir Christopher Wren was employed, and with his usual genius he designed what was the first of its kind in Britain at that time, a church with a dome. But we saw just a few steps away another of Wren's churches and were fascinated to find out that he was employed to design and rebuild 51 churches just in the city. We also learnt that the dome is 66,000 tons, so how does the building support that weight? Well… we didn't wait to find out, we wanted the picture and ourselves in front of it, and dashed off in pursuit of Steve.
Well there were various stops along the way but we were quite fascinated by the plaque in the wall that read Site of Newgate. Steve explained that it was a famous prison where typically the poor were imprisoned for stealing bread. Rebecca said we must read one of the school library books by Dickens to get the nasty details of eighteenth century prison life.
Just behind where we stopped to talk and share stories of prison life we saw the golden figure of justice on the Old Bailey, Britain's most famous criminal law court, holding her sword to catch the wrongdoer and her golden scales to weigh the crime against the punishment.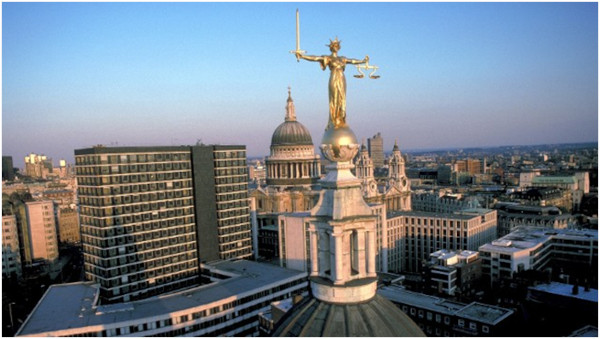 Well with Steve we see the world famous sites but also those fascinating ones that even people who've lived in London for years have never heard of. Ely Place for example. Ely is actually miles away in Cambridgeshire but apparently the bishops of Ely lived there in times long ago. We wanted to go and look at the thirteenth century crypt in the church that's still there but it was unfortunately locked. Another day, which is what we often say when we see so many lovely sites and listen to the stories.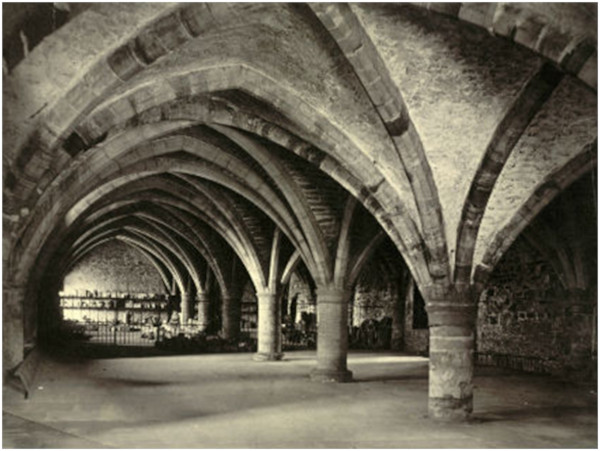 What was just as fascinating was the little narrow passage leading down to the ancient pub, the Mitre where we fancied stopping but history and fame were calling us…. To Hatton garden and beyond.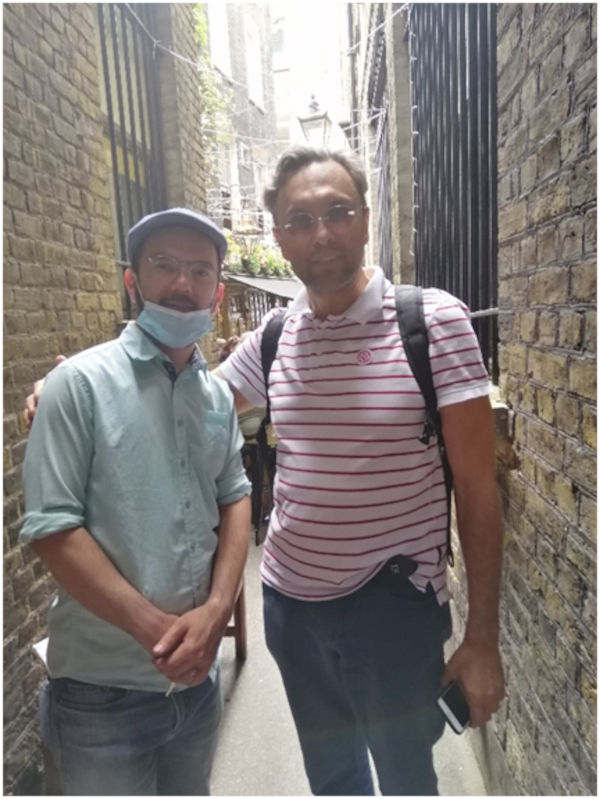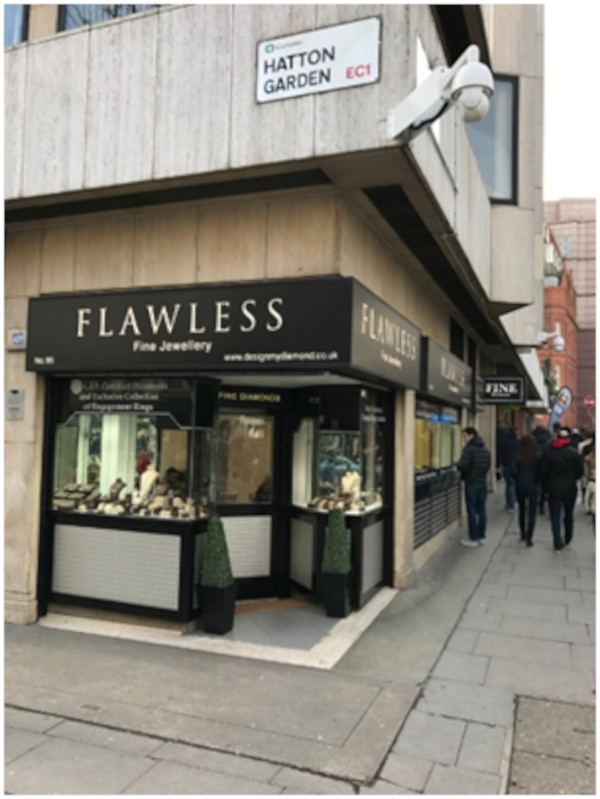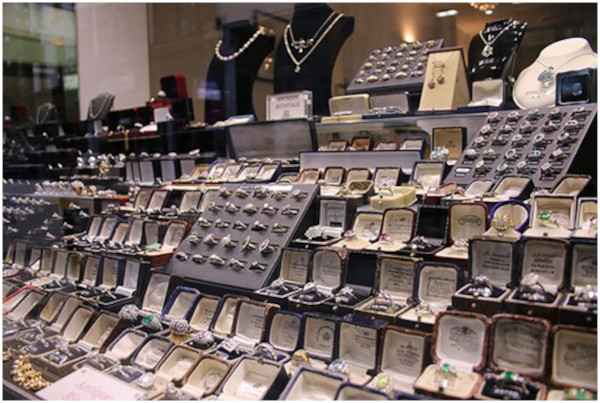 Vlad and … looking happy before they realized we were off to look at the diamonds in the world famous Hatton Garden and listened to Steve's story of the robbers who got away with, (well for a short time they got away with it) £14,000,000 of diamonds and gold some years back. They are now in prison but the majority of the treasure is still around, being sold no doubt to one unsuspecting person after another.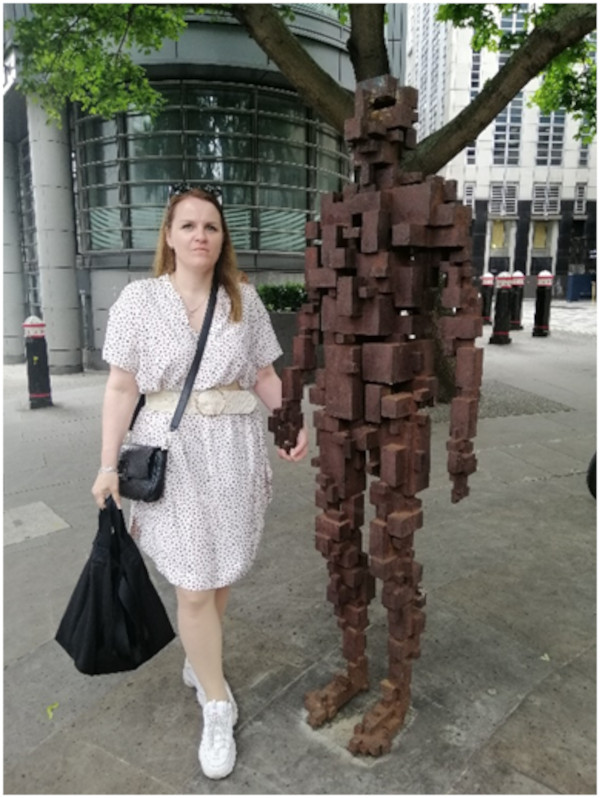 And sometimes it'sthe unhistoric that appeals, like when Marita found Mr Right,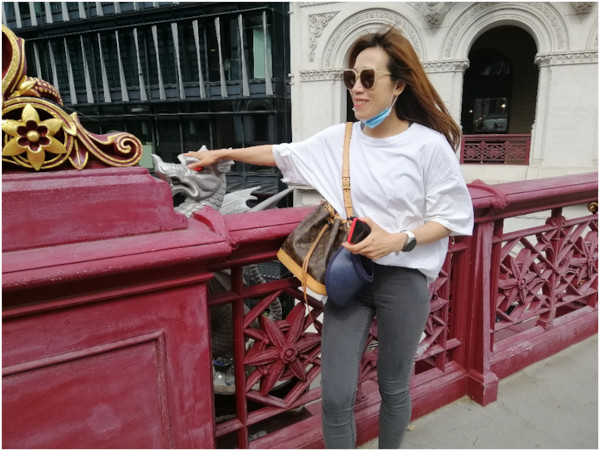 or when Rita fell in love with a dragon on a bridge and felt homesick for China,
Or knowing that classes were changing at the end of the week we thought we'd like a photo to remind us of happy days: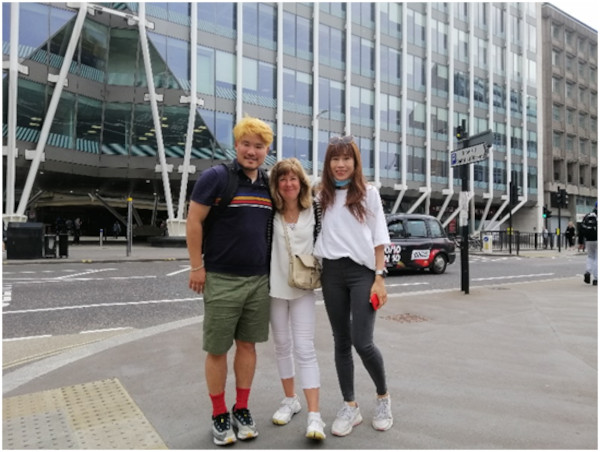 But there was one last stop that didn't disappoint. Steve led us along the end of Fleet Street, where the newspapers were printed for many years and then tucked away in a quiet corner was the pretty St Bride's church with its distinctive steeple.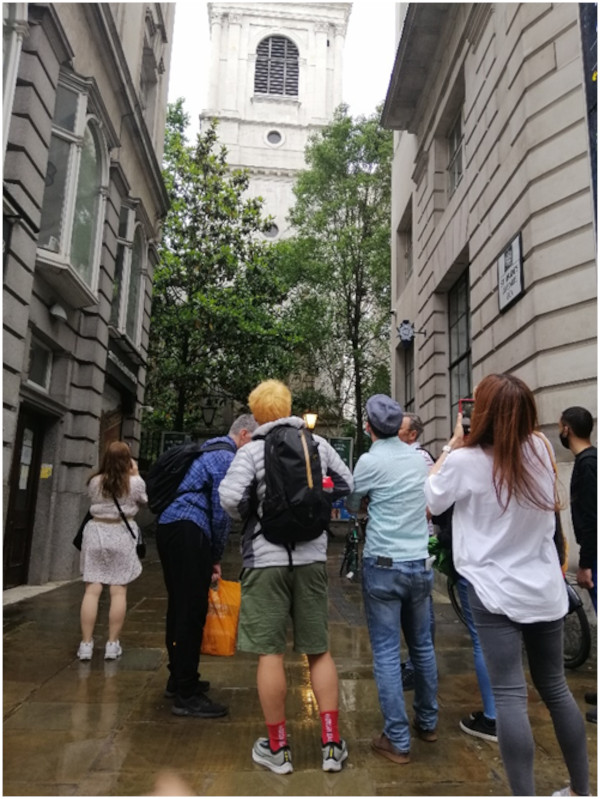 or when Rita fell in love with a dragon on a bridge and felt homesick for China,
Or knowing that classes were changing at the end of the week we thought we'd like a photo to remind us of happy days: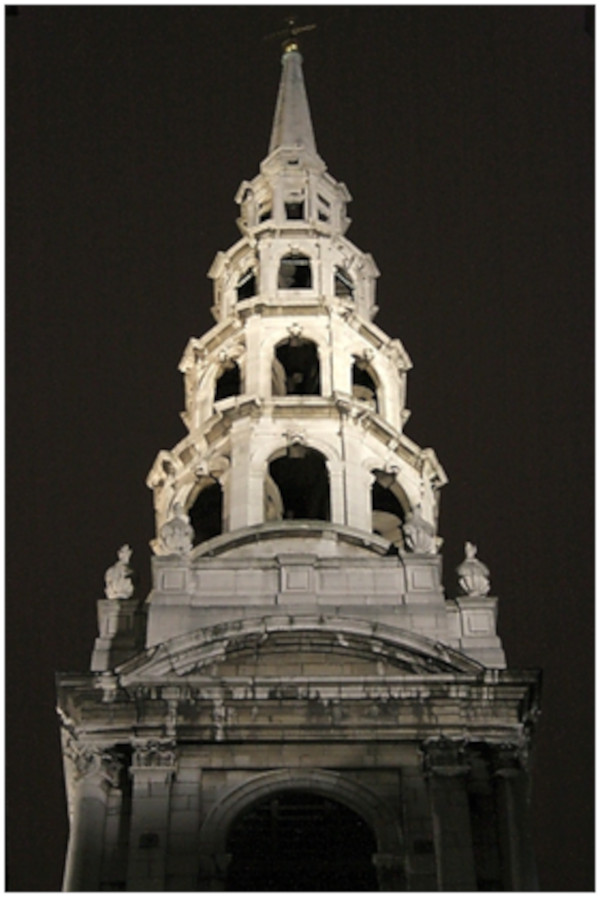 Steve asked us if the steeple reminded us of anything. Neither energy nor powers of imagination were not at their peak so we stood shaking our heads and he told us the story: an apprentice baker fell in love with his master's daughter and wanted to make a special cake for his wedding that was to take place at St Bride's church. He came up with the brilliant idea of copying the tiers of St Bride's and people have been doing the same ever since. Do couples in your country usually have tiered wedding cakes? Well, we were particularly lucky because that day the priest was there and just about to lock up or the night but he stayed and answered our questions and told us about the war damage so all the inside is new, but Wren's steeple survived along with the skeletons in the crypt.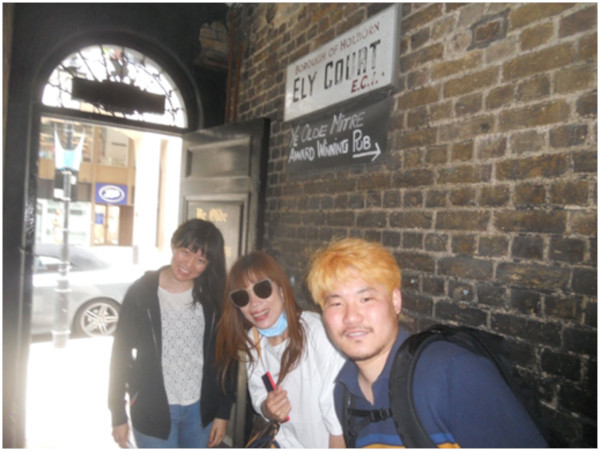 So feeling full of history, we argued for a while about whether to have a sleep on the train home or whether to go back to The Mitre for a drink or two or three.
But either way we were in school for 9 the next morning, feeling happy.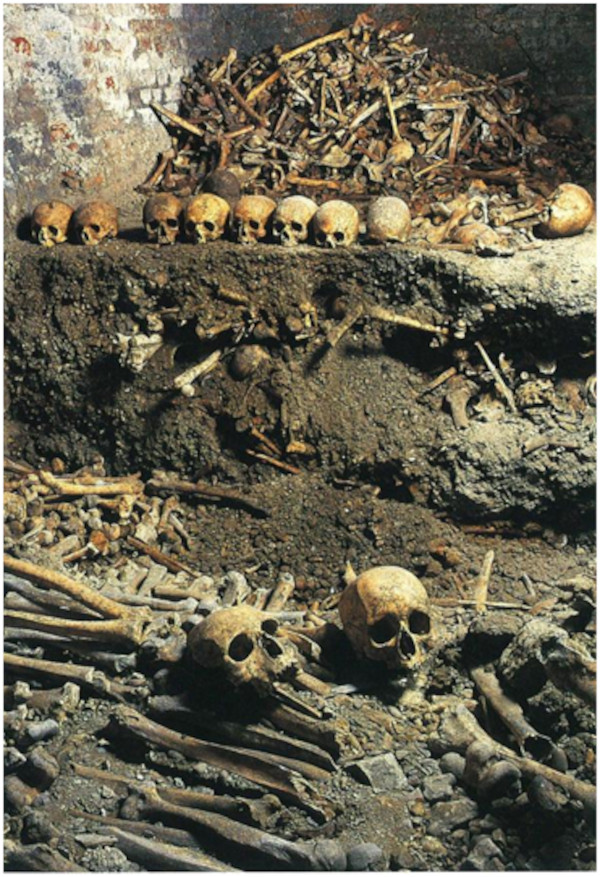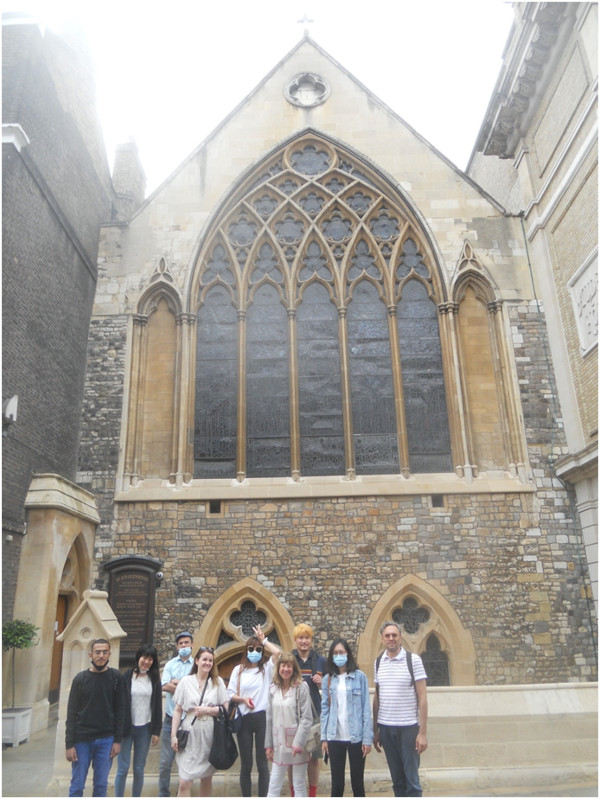 Published on 28 March, 2023